Finding the Right Tri Fit: Top Ten Tips
Like all triathletes, Hans Christian Tungesvik focuses on aerodynamics and his position on the bike – especially for longer distances like full Ironman, where fit and positioning also affect how you feel once you hit the run leg. As we head into tri season, Hans Christian Tungesvik shares his top 10 tips on fit for long-distance triathlons.
1. Aero is (part of) Everything
They say "aero is everything".
I disagree.
Yes, aerodynamics plays an important role in finding the optimal bike position in long-distance triathlon, especially on flat and fast courses. But there are still lots of other aspects to consider, such as comfort, ability to hold your position, and mobility, among others. What's the point of an aerodynamic position if you're only able to hold it for 20% of the bike course? Make sure to avoid focusing only on aerodynamics – there's a lot more to a good bike fit.
2. One Step at a Time
When making changes to your position, you need to move slowly. Sudden significant changes will give the body a different load, thus increasing the risk of injuries. Raise the saddle 1-2mm at a time, lower the basebar just a tiny bit, or adjust the aerobar angle ever so slightly. Try it out, evaluate, and make further steps if needed.

3. Bike Fitting is a Long-Term Relationship
Don't expect to have solved everything when you leave the bike fit studio.
The position you get from a bike fit is a great starting point for your optimal race-day setup, but will probably need some fine-tuning. Get out on the road for some longer rides, see how the position feels, and make small incremental adjustments accordingly until you feel comfortable, strong and fast.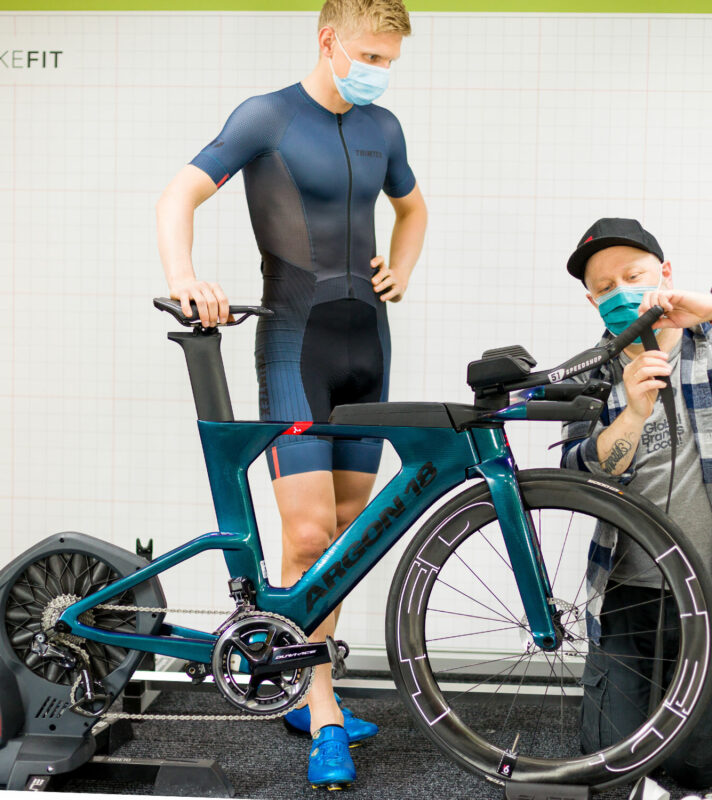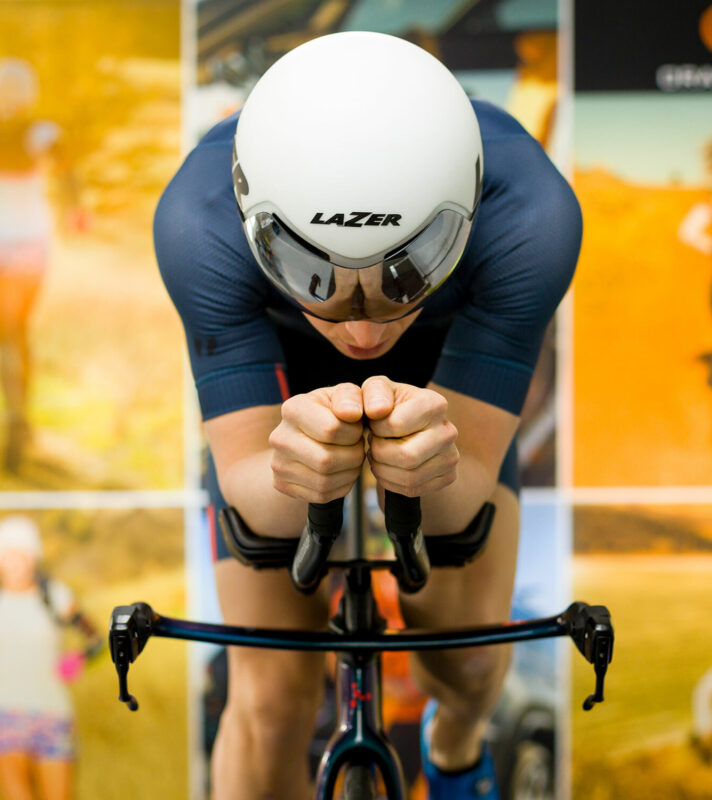 4. Always Bring Your Kit
When spending time and money on a bike fit, you might as well come prepared.
Bring all your race gear, including helmet, race suit, shoes, and other equipment you might use for race day. Your race setup as a whole should be evaluated. A position could appear both comfortable and aerodynamic by itself, but end up quite inefficient with the wrong helmet or helmet position.
5. Patience is Key
Getting adjusted to a new position is, just like long-distance triathlon itself, a game of patience.
Adjustments will most likely feel strange, wrong and uncomfortable at first. That does not mean that they are bad, they are just different from what you're used to. Give it some time before you decide if you need further adjustments.
6. Fitting Indoors – Validation Outdoors
The process of a bike fit indoors can be seen as a way of finding the optimal bike position from a theoretical point of view. On the road, several new aspects come into play. Lately, advanced tools for validating theoretical results have become accessible to the average cyclist – such as aerometers, like the Notio.
With such a device, you can get your real-time drag coefficient and other aerodynamic data while out riding. This enables a comparison of different race-day options including race suits, helmets, shoe covers and position, to help improve the theoretical results obtained indoors. In sports, as in science, theory needs validation.
7. Find the Right Fit With Your Bike Fitter
A bike fit is a bike fit is a bike fit? Not exactly. They can be done in several different ways, using a broad range of different tools, protocols and software. Adjusting a road bike is also different from adjusting a TT or triathlon bike due to differences in bike geometry, position and course type. Make sure to choose your bike fitter wisely! Find one that knows the requirements of your specific discipline, such as the types of races you are doing, the bike you are riding, crank arm lengths, and other components available. And obviously one that passionately cares about helping you perform to your full potential.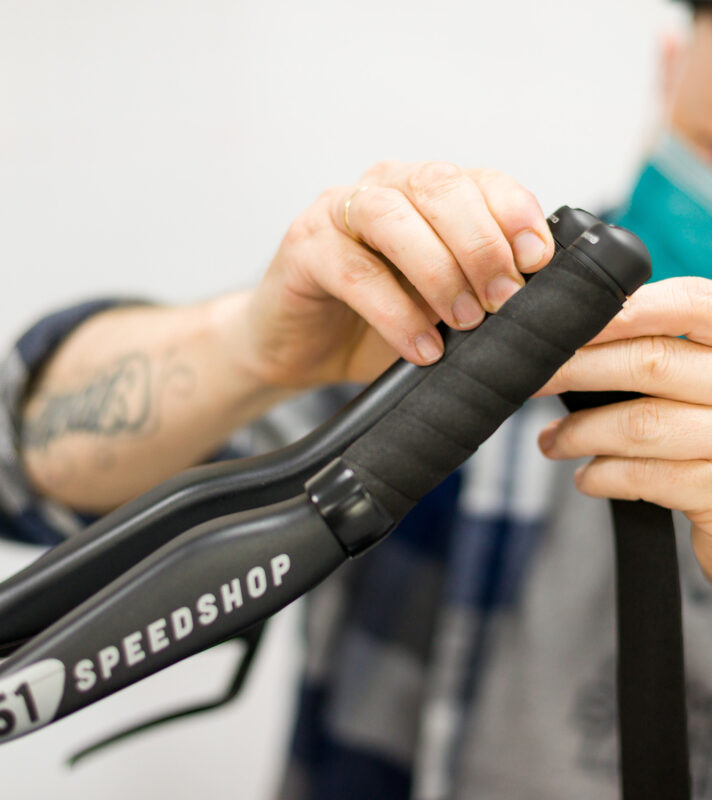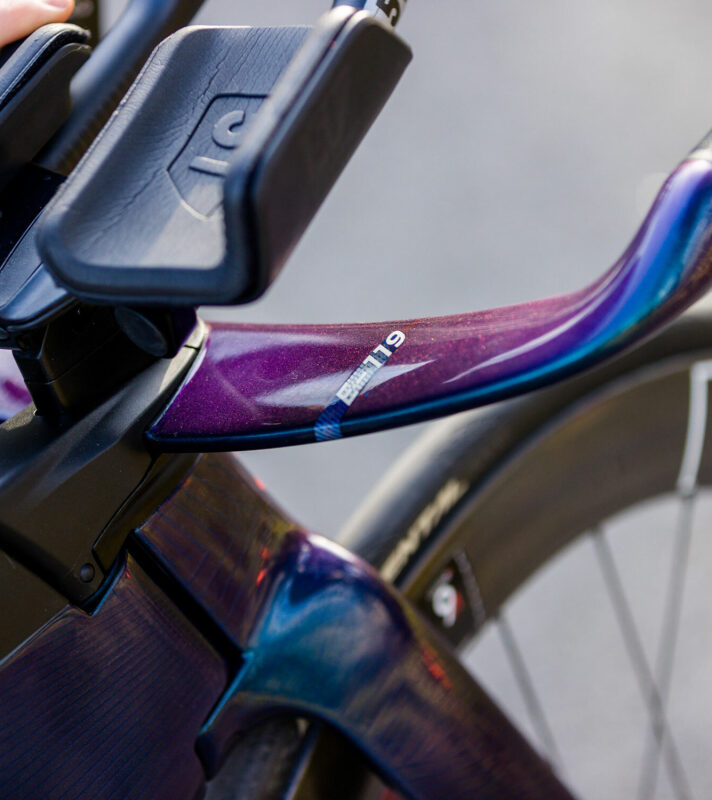 8. Tri Fit or Bike Fit?
You might think that a time trial cyclist and a triathlete would have the same requirements regarding bike position.
Wrong.
There are two very important differences: the duration of the bike leg, and the little run on the end of a triathlon. These differences should definitely be taken into consideration. In most cases, a triathlete will need a less aggressive position on order to withstand the duration of the bike leg, and to save the hamstrings and glutes for the run. Maybe raise the aerobars a tiny bit, to open up your hip flexors? Or even move your saddle a bit towards the front? Choosing a shorter crank arm or moving the cleats further back might also be a wise choice for building up for a strong marathon. Make sure to test your position out on the road with the run in mind. And again – find a bike fitter with experience in triathlon if you need a tri-specific position.
9. Get Comfy
For the majority of triathletes, the optimal position would be the one they are able to hold for the duration of the race, and still feel quite comfortable and be able to push solid power. I believe the process of getting comfortable is best obtained through a combination of adjusting the bike to the rider and adjusting the rider to the bike. Work with your mobility, core strength and TT position endurance in order to get comfortable. Make bike adjustments the same way until you and your bike meet halfway on the optimal position for you.
10. Have fun!
My last tip, and probably the most important one, is to keep the fun in it!
Finding a position on the bike that allows you to go fast and still be comfortable will provide you with the largest amount of fun and enjoyment while out on the road. Being able to feel good when riding the local roads with your friends gives a sense of satisfaction that can't be described. Give yourself the best chance of putting a huge smile on your face – mile after mile!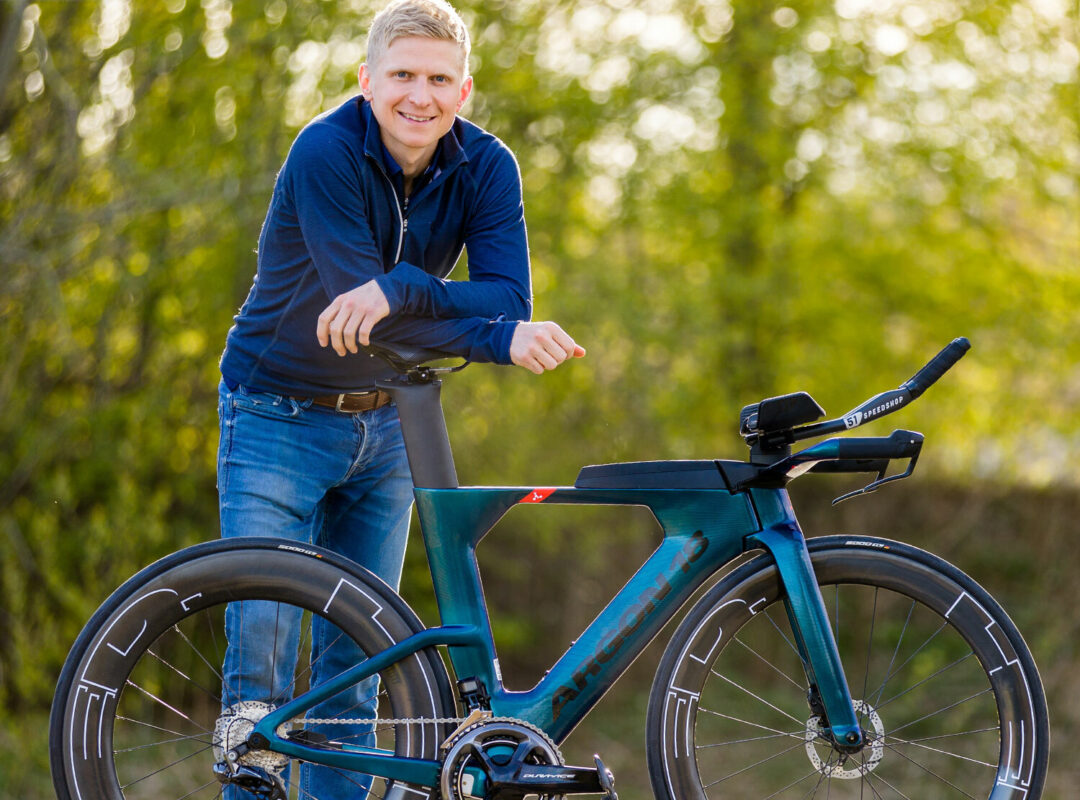 Read more about our athletes