World Winter Triathlon Champion!
Hans Christian Tungesvik usually competes in IRONMAN-distance triathlons, but in a year where almost all races were cancelled, he decided to try something different: the 2021 World Triathlon Winter Championships in Naturlandia, the stunning natural park in Andorra. And the risk paid off. He surprised both himself and the rest of the field by taking home the gold medal, in front of the race favourite: eight-time world champion Pavel Andreev, who had to settle for second place (+0:59), while Italy's Giuseppe Lamastra rounded out the podium (+1:03).
Despite being a rookie in winter triathlon, Hans Christian's cross-country skiing background benefitted him at the end of the race, where he moved up through the top five and took the lead.
"I did not expect this. It was my first race at this level, and while I knew I was in great shape, I had no idea of how the others were and how I will be compared with them. I love skiing, and this circuit was amazing. I would love to race more winter tris for sure", said Tungesvik after the race.
Not only did Tungesvik win the individual competition on Saturday, he also won the mixed relay on Sunday with Elisabeth Sveum.
Enroute Kona – Enroute Winter Olympics?
Winning the World Championship shows, despite the challenges of the past year, that Tungesvik is still on course as he works toward qualifying for the IRONMAN World Championships in Kona, Hawaii. After winning the Norsemann Xtreme Triathlon in 2019, breaking the Norwegian 200km ITT record in 2020, and now winning the Winter World Championships, things look good for the 2021 season.
"I am really proud of the effort I've put in with my coach over the past three months to get ready for this championship. The course suited me perfectly, and the feeling of being able to enjoy the last lap of the skiing leg, taking it all in, was just incredible."
Now Tungesvik is interested in the campaign to have winter triathlon included in the Olympics in 2026.
"I hope to be able to contribute to lifting the sport further, and work towards the common goal of making it an Olympic sport in 2026!"
Custom-build Dark Matter
In Andorra, the bike leg was on groomed ski tracks, where grip is essential. The bike is required to have a flat handlebar, and it should have room for tires of at least 50mm width to stay on top of the snow.
Tungesvik's Dark Matter was customized with a flat handlebar and a Lauf Cycling gravel fork, some fat tires, and a GRX gravel groupset from Shimano, making it a bike that was just right for the job. You can see the bike in detail here.
"My customised Dark Matter really showed how brilliant it was for the conditions we had in Andorra. On the firm and fast snow conditions on a hilly bike course, I got full use of the lightweight gravel geometry compared to the other MTB bikes in the field. The Lauf Fork proved to be great in this kind of terrain and surface. Even with a crash due to a personal error, which cost me about 20 seconds, I was still able to stay within reach of the front group of high-class mountain bikers."
The Race
Run: 6.5 km
Mountain Bike: 11.3 km
Cross-country Ski: 10 km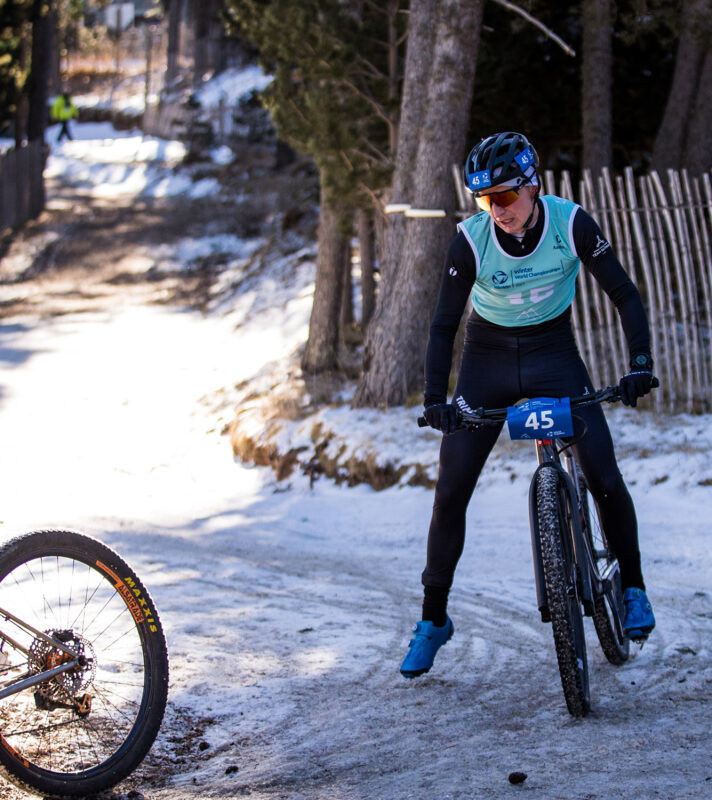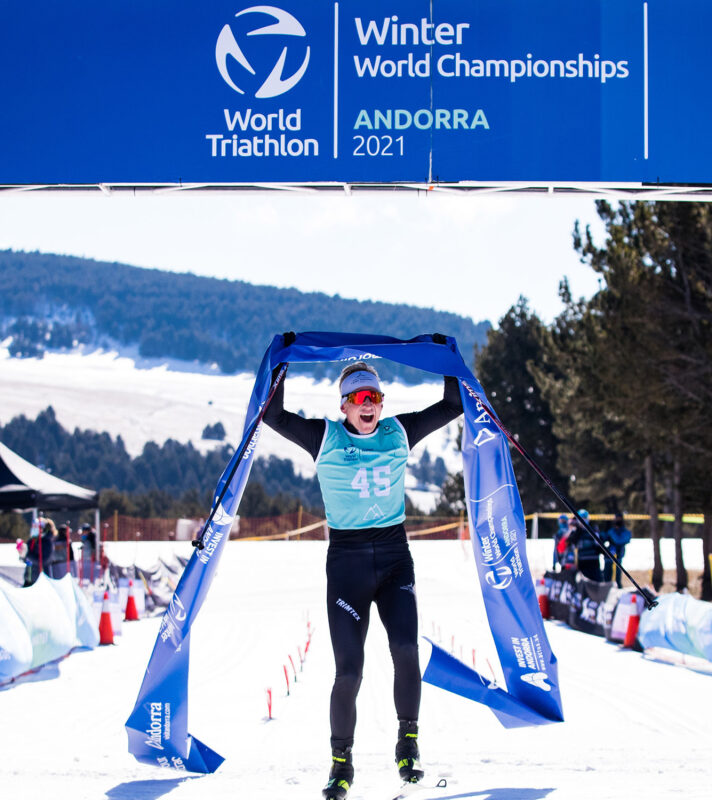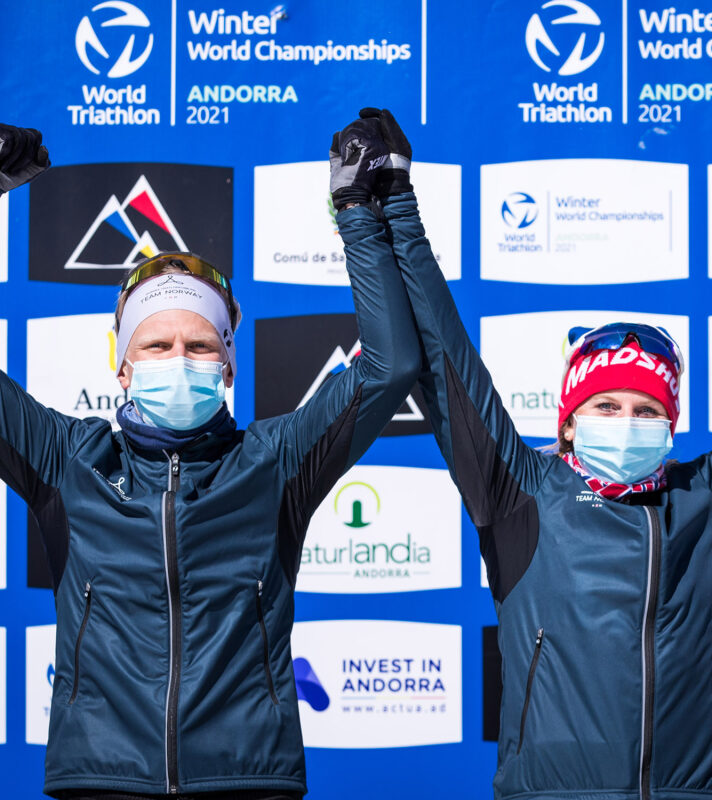 Read more about our athletes