Grand Prix Cycliste de Québec/Montréal
Race Recap with Nicolas Côté
We had a chance to chat with Montreal-born UCI Continental cyclist Nicolas Côté after he returned to his hometown to compete in the Grand Prix Cycliste de Québec and Montréal, where he raced an Argon 18 Sum with the Cycling Canada team.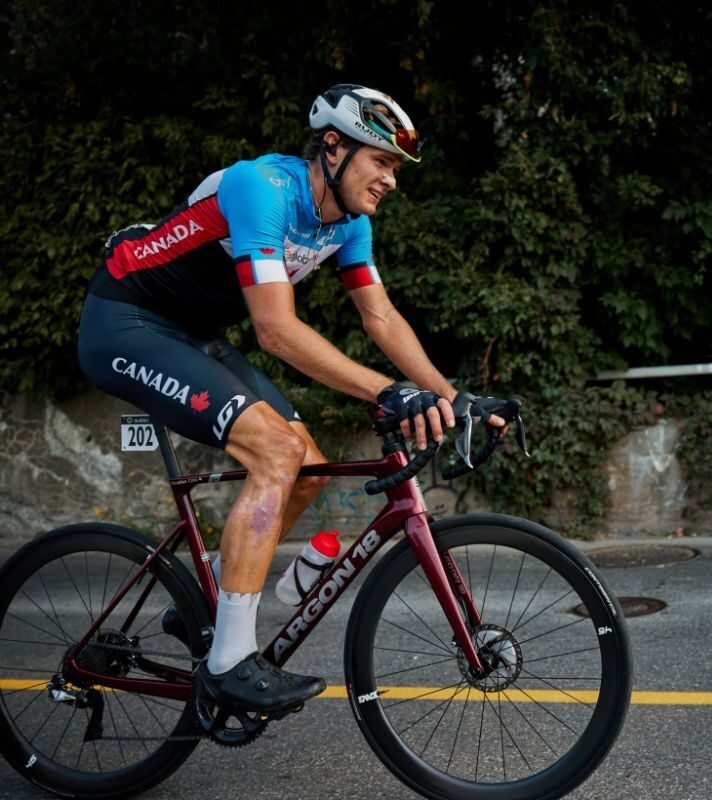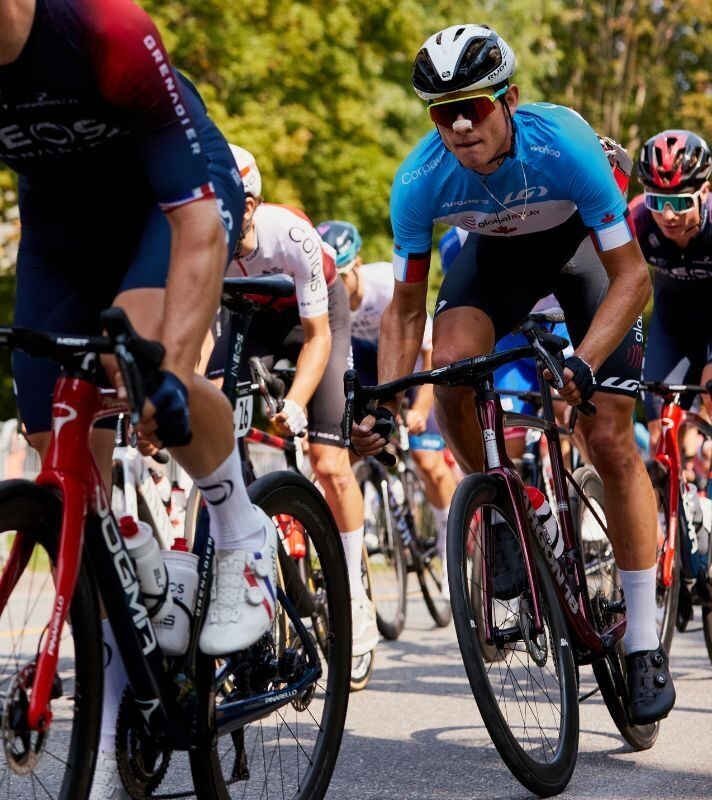 Argon 18: You just raced in the GPCQM. How was it to race in your hometown against some of the biggest names in cycling?
Nicolas Côté: First of all, I want to thank everyone who was there to support me - you are my heroes! It was amazing to be able to participate in these events. I've watched the race on Mount Royal for many years as a spectator, and here I was this year racing with the best, wearing the maple leaf proudly on my back. In fact, in 2019, the last time the race was held, I was on the side of the road cheering and I seriously told a friend that one day I was going to be in this race, and I was going to do everything I could to make it, I swear. That's proof to me of the power of setting an intention. I think you have to believe in yourself and trust yourself by using the right tools, surround yourself with the right people and of course stay realistic in your goals.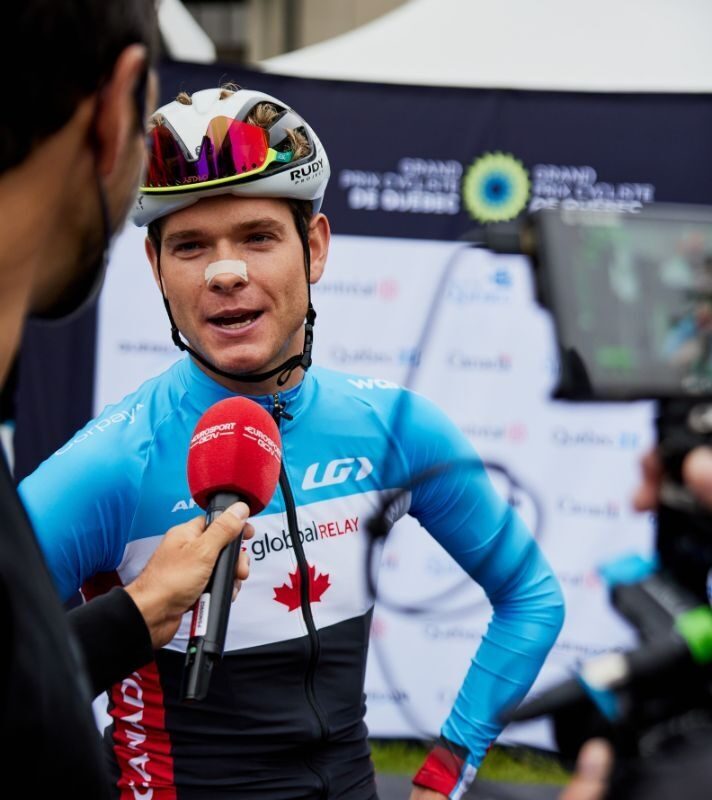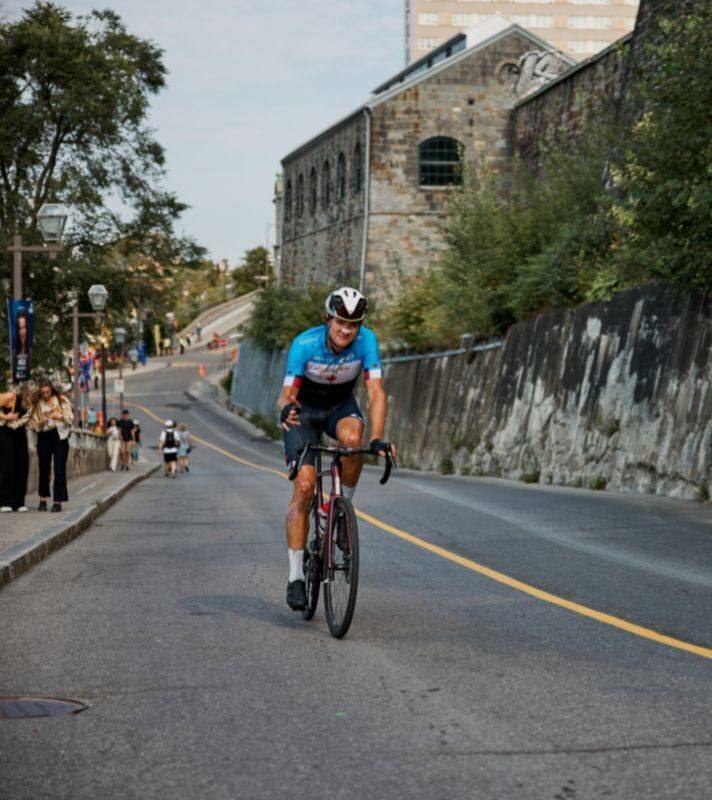 A18: Tell us a little about your strategy for these two races. Was it different for each course? What were the highlights of each? The biggest challenges?
NC: Cycling Canada's team strategy for both races was primarily focused on getting the Canadians in the break. For my part, my role in Quebec City was to wait for the final lap to bring the Canadian champion (Pier-André Côté) in a favorable position for the sprint. This way, we could have a Canadian on the podium! This would have been the perfect plan if this particular edition of the Quebec City race was not the fastest of all time. I got thrown out with only two laps to go. Teams like Jumbo Visma had a strategy of increasing the pace exponentially, with no downtime for hours. We thought that it was going to filter down to the last lap, like in previous years, in the lower tier of Old Quebec before the climbs, but we were wrong.
On the other hand, in Montreal, I spoke with a friend from AG2R Citroën la Mondiale, Michael Schar, before the race and he explained to me that my only chance to make the break, given my size, was to attack from the beginning to get a head start on the peloton. I brought this up at the team meeting and we decided to go for it, that this would be our way to reach our ultimate goal, which is to have Canadians in the breakaway. It was a very dangerous move, as I could have been ejected after only two laps out of 18. It is extremely difficult to recover from such an intense attack at the beginning of the race when the field decides to ride single file for the first half hour. But I was able to stay calm and get back in the pack when it was curtained off by the break of the day from "Tony the Tiger" (Antoine Duchesne). All in all, I am proud to have tried my luck, because nothing risked, nothing gained, as they say.
To give you an idea of the size of the event in Montreal, if it had been part of the 2022 Tour de France, it would have been the stage with the most altitude gain, beating even the Alps. Realistically, finishing the Grand Prix Cycliste de Montréal with the top professionals of the World Tour, covering 221 km and 4800m of elevation using that tactic is almost impossible to do as a developing cyclist. And I'm proud to have worn our team colors for our home spectators.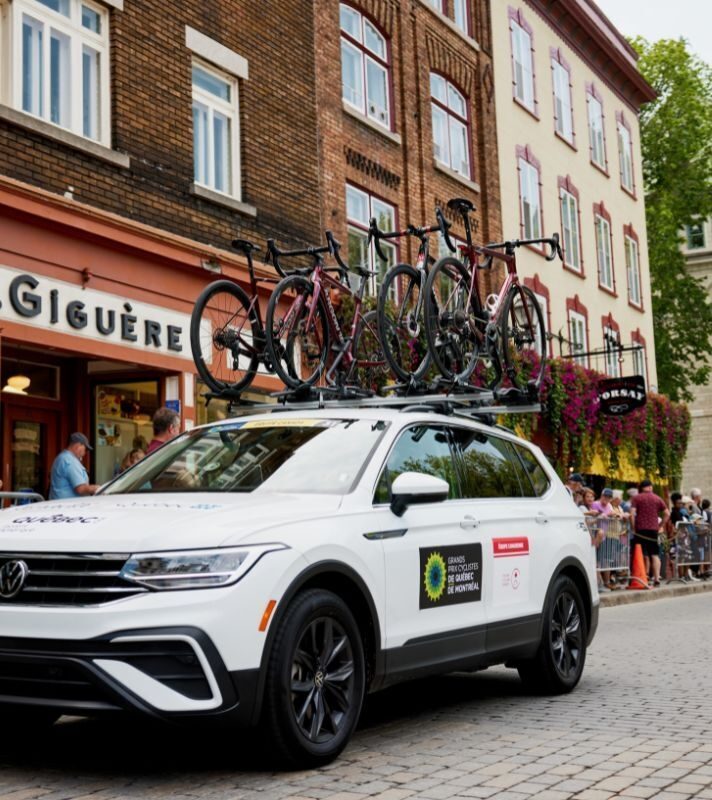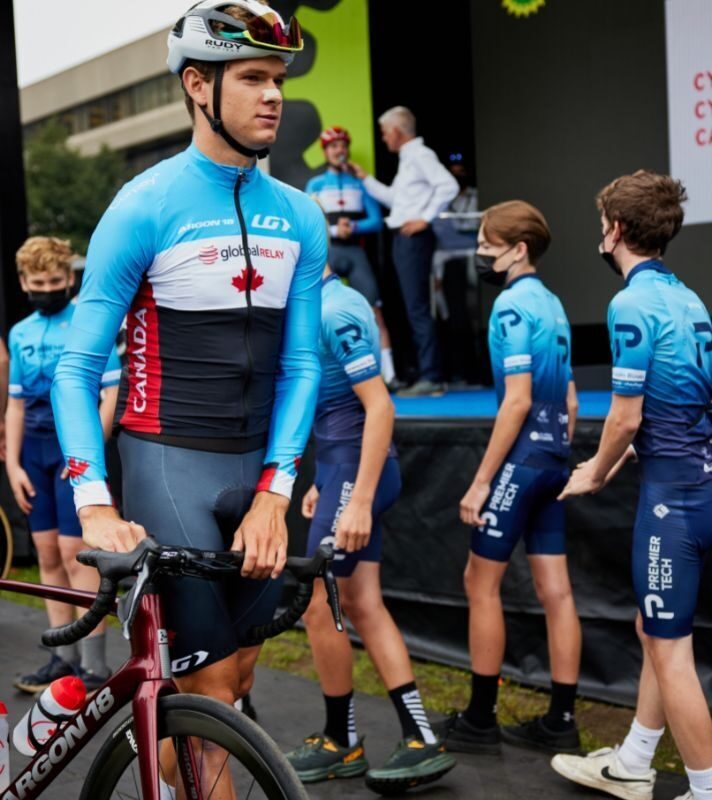 A18: Tell us a little bit about how you got started in cycling. How did you join Cycling Canada?
NC: It's a very long story, actually! Basically I started in the world of fixed gear racing with the Red Hook Crits. Unfortunately, the Red Hook Crits folded due to lack of sponsorship and I turned to criteriums mainly. I was also able to make my mark by racing in the United States in several big series, such as the Tour of America's Dairyland, where I was able to build up my confidence enough to win the Tuesday Cyclists of Lachine in 2019. That same year, I even managed to win a Red Bull race, the Red Bull Last Standing in Tulsa, Oklahoma where I returned to the fixie world for a short time.
Back to the question, though, I wanted to make a career out of cycling and criteriums were not the way to do it. In fact, the real problem was that no criterium team existed in Quebec and I always had to try to make it on my own. This was possible a few times, but not very convincing in the long run. After a discussion with Guillaume Boivin in a training session, he convinced me that the only way to make a career in cycling and get paid was to join a road team, and that's when I really started to change my training to make the switch.
However, this was when the Covid pandemic arrived, and I started questioning my life choice. I questioned whether I really wanted to make a living out of my passion. I had my ups and downs like everyone else in the last few years, but I stayed motivated. I will always remember what James Piccoli said to me: "the pandemic will show who the real cyclists are, because only the real ones will continue to train even if there is no race". From this point of view, I stayed in the game and signed my first professional contract in 2022 with the UCI Continental Yoeleo Test Team p/b 4 Mind Project. It was a great choice as I had access to a professional race calendar not only in the US, but also in Europe.
I was motivated and decided to leave the Canadian winter behind to prepare for the season in Spain. I started the season strong in Greece where I placed 4th for 20 UCI points at the International Rhodes Grand Prix, a one-day race. Then in July, I made my debut in a World Tour race in Romania, the UCI Tour of Sibiu. It was a stage race with teams like Bora, Astana, Cofidis, Jumbo, Israel Premier Tech and others. Throughout the stages, I knew how to stay calm and save my energy for the last stage where I had a chance of a result according to my puncher-sprinter size. And that's what I managed to do, finishing 25th in the professional category. I was ecstatic and the same evening, I received an email from Cycling Canada saying that I had been selected for the Grand Prix Cycliste de Québec and Montréal in September. I almost didn't sleep that night, I was so excited!
A18: What's next for you? What are your post-season plans?
Just one week after the Grand Prix, I'm having a hard time digesting the end of the season and going back to school without feeling nostalgic. I know that these last few races were really important to my career and to finding a team next year. Like all professional cyclists, the financial factor plays an important role in keeping me on the right track, and here I am questioning whether my results this year were really up to par. Personally I think so, and I'm proud of it, so now it's a matter of finding the right resources to keep competing and getting better.
I was recently at the new indoor velodrome in Bromont where I had a discussion about my future with my coach (John Malois). A former track athlete who competed at the 1992 Olympic Games in Barcelona, he explained to me that it was time for me to make a permanent home on the track and maybe one day make the Olympics. John says he believes in my physical and mental abilities and encouraged me to finish my engineering studies and train on the velodrome this winter. However, I want to reassure everyone that a move to the track doesn't mean goodbye to the road - on the contrary, it would allow me to get the extra power needed for the climbs.
A18: You rode an Argon 18 Sum for the GPCQM. What did you think of it?

I loved the Sum! I changed bikes a few times this year due to two major crashes, and the Argon 18 Sum was by far the best bike I rode. Even with my 6'3" frame, the Sum allowed me to have a bike light enough to help me with the climbs on both courses. I think the Sum is the perfect ratio between lightweight and aerodynamics. And with its design details and sparkling burgundy color, I also managed to get some "mental watts" - that's a joke cyclists make when they have a nice clean bike!