Mark Beaumont and the North Coast 500
Argon 18 advisor Mark Beaumont recently returned home to Scotland to attempt a new record for the North Coast 500, a stunning 516 mile/830km loop with nearly 10,000 metres of climbing. We had a chance to talk with him after the ride.
Argon 18: First of all, congratulations! We have a new record?
Mark Beaumont: Yes! 28 hours and 35 minutes; 30 minutes under the former record.
A18: Why did you choose this ride and this challenge?
MB: The North Coast 500 is the most iconic Scottish road trip – for both driving and cycling. It's something like Route 66 in the US, a legendary route, and utterly beautiful. It's over 500 miles through the most rugged and wild parts of the British Isles. Back in 2014 when the route first opened, I was invited to set the inaugural non-stop time, the original benchmark. I think my time then ended up being about 37 hours. I was straight off setting the Africa record, and I was fit, but backpacking fit, if you know what I mean, not time-trial fit. I've had the pleasure of seeing that record broken many times over the years. Last year Robbie Mitchell, the UK TT champion, set the record at 29 hours, five minutes. That was a pretty fierce time. He broke the previous record by a significant amount. Robbie sent me a lovely message after I finished – he said 'nobody else would understand what you went through to do what you did, but I do'.
So why did I want to try it? I've had a connection with the route since it was created. It's the ultimate challenge in my home country, and I feel like I've developed so much as an athlete since I did it that first time, so I thought it was time to attempt it again. After RAAM didn't play out as planned this summer, due to some of my team getting Covid, I wanted to make use of A year of hard training, so I refocused on the GBC500 gravel race in Quebec and then decided to come back home and do something even harder - and 300km further! In fact, it's been an amazing year, although I wouldn't have said that back in June.
This route and this record are a big deal locally. People in the UK really relate to how hard it is. They understand that you're not just up against the miles and the climbs, but also the weather, and the roads – these tiny little roads can be pretty rough with some unusual hazards like stray sheep and deer!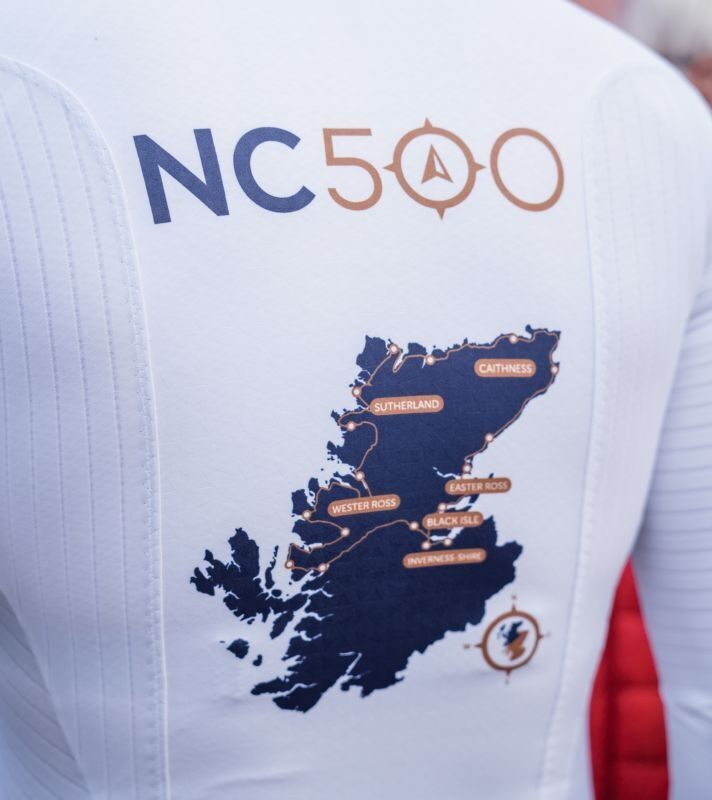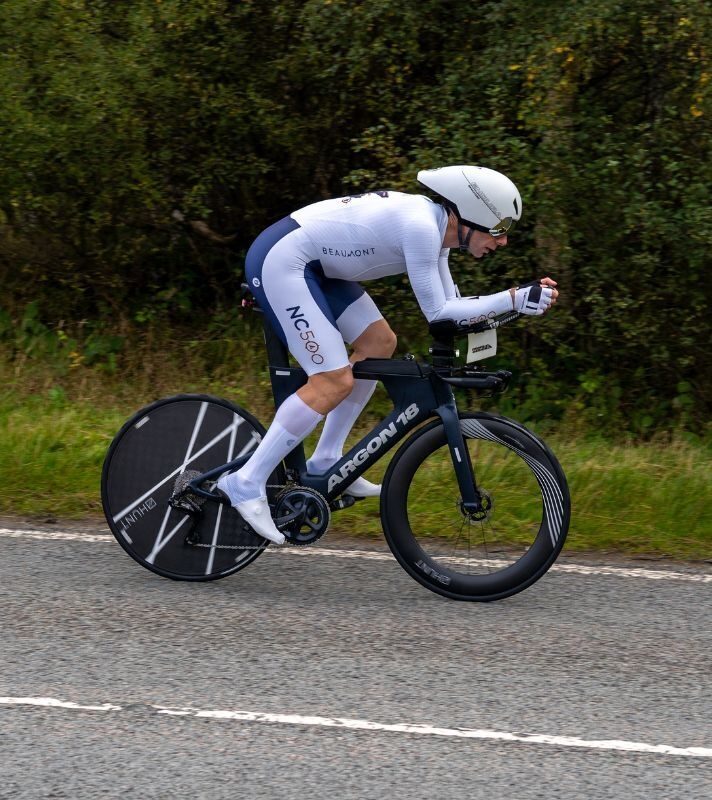 A18: You did this soon after winning the GBC500, the Canadian gravel bikepacking challenge. How did the two compare, other than the different surfaces and therefore different bikes?
MB: Because the two were only a month apart, there wasn't time to do anything significant in terms of switching up my training for the North Coast 500. GBC was actually a really good training ride. It was hard, hilly, but not too technical, so really a mind-over-matter race, where you just keep the intensity going over the distance. Having a hard 500km in my legs was a perfect stepping stone. And as importantly, it gave me a lot of confidence.
The biggest differences were the additional 300km in the North Coast 500, of course, and switching to TT bike. I was riding the Dark Matter for the GBC500, and the E-119 Tri+ Disc for North Coast 500. It's a lot more aggressive. To ride in that position, it's quite a setup to get right. So, it wasn't just that I was riding harder and for an additional 300km, but I was riding aggressively. I averaged 261 watts normalised power - to hold that for 28 hours and 35 minutes is pretty tough to say the least. I was off the bike for 16 minutes total during that time. I had a lot more time off the bike at GBC, although I tried to be pretty quick on the rest stops there as well. North Coast 500 was also fully supported, so I had a whole team following me, and the intensity was one notch up.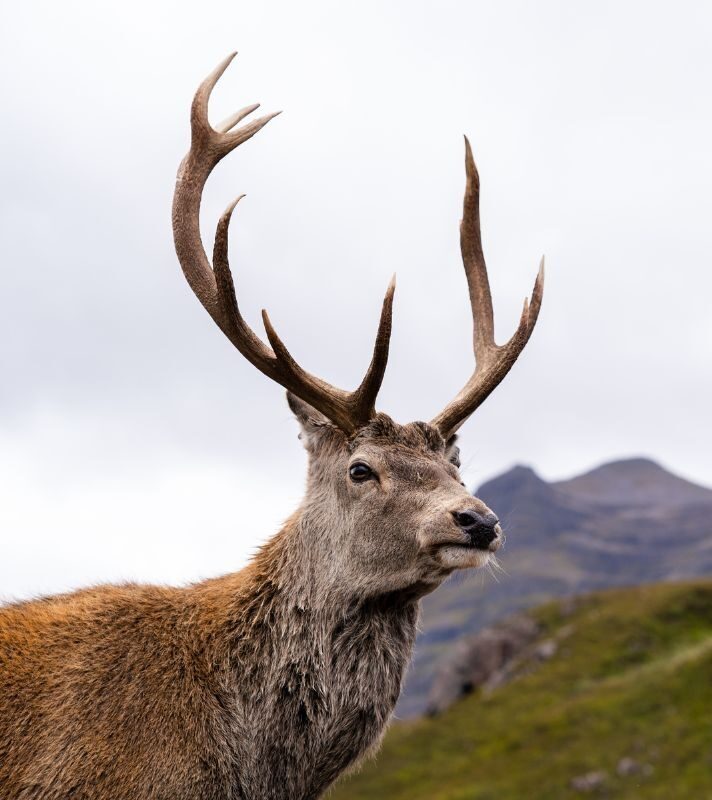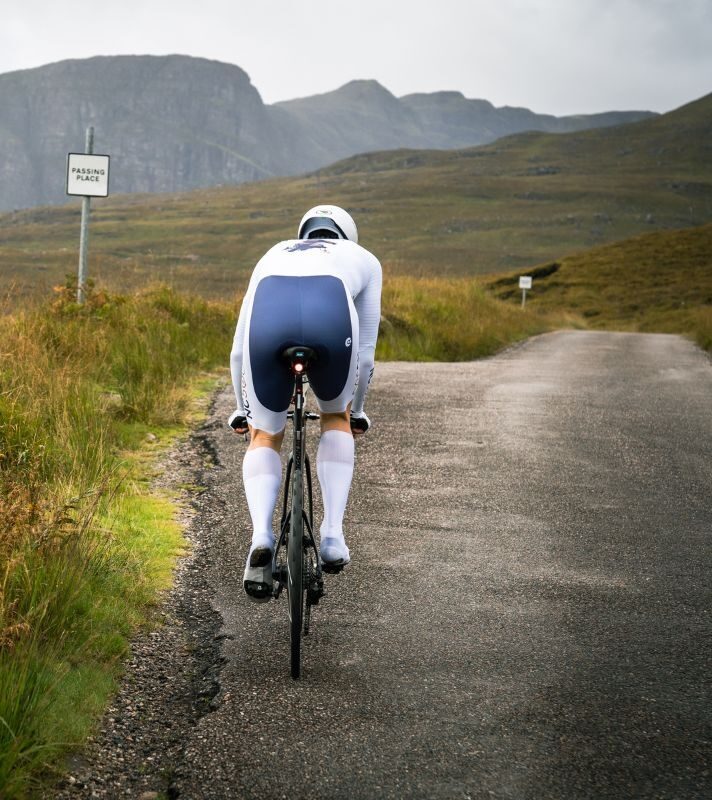 A18: What was the strategy?
We had a plan to complete the ride in 28:30, and to come that close to the goal was amazing. The team was incredible. We had a really well executed plan. We used the MyWindsock app, where you enter your CdA, weight, weight of the bike, the weather conditions, add what the average power could be riding flat, then add the range for climbing and descending. Once you know all those factors, it spits out the speed you need to maintain to hit the time you want. We also had the nutrition measured out – I consumed 15,500 calories, almost all liquid, and my energy levels were monitored using a Supersapiens glucose monitor. Everything was dialled. We knew all the inputs – food, power, equipment - so that's where we got the 28:30. But in the end, we had slightly more wind than we calibrated for. For the first leg it was against me, then after that it was slightly with me. But for the last 130-140 miles I had a straight headwind.
Even with that wind my power output remained pretty much constant throughout. If you watch my progress over Robbie's time, he went out fast, and at one point he was an hour ahead of me. Then his curve flattens out. But I didn't catch him, so to speak, until mile 350. For most of the course I was behind him, but because we did all that planning, we knew we were on track, despite the headwinds and challenges in the last leg.
The psychology of that is really interesting though. For the majority of the ride, I was losing.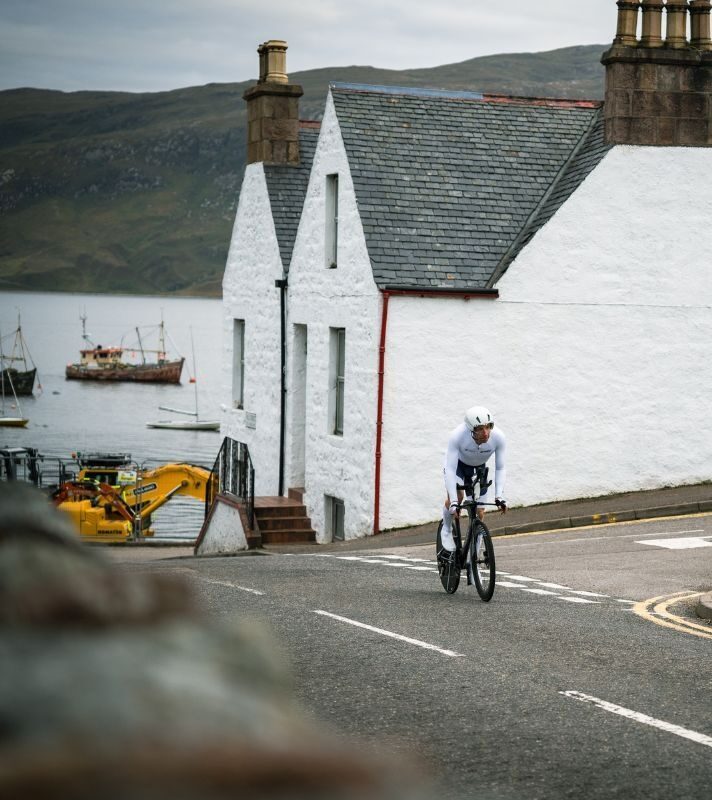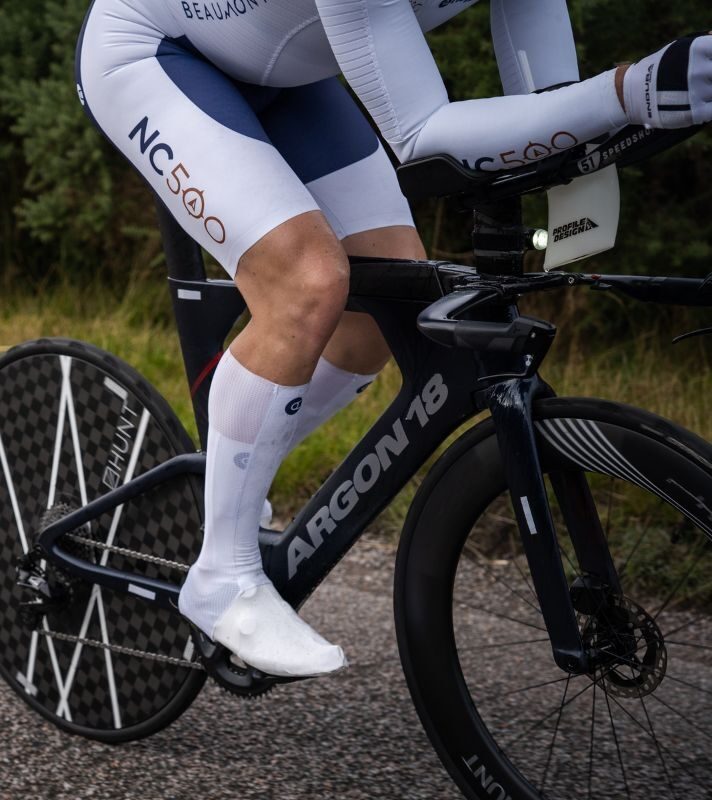 A18: What did you ride, and why?
The E-119 Tri+ Disc. I chose it because it's out-and-out the fastest bike for the route. Like most endurance records, this wasn't UCI-regulated so that wasn't a concern. This was effectively an 800km TT, so not exactly what the designers of that bike envisioned, I assume, when they made it. It was designed for an Ironman. But you are so much faster in the TT position, even on the climbs, with a bike like that. It's not a comfort bike, I'll admit, but it's a superbike. It was fast. The Sum Pro was on the van and ready if needed but it just couldn't compare to the E-119 for a solo TT effort. It's an absolute superbike, and setting it up the way we did made it the best we could over the rough roads. Once you get into the full TT position there's just nothing else that can compare for the speed and power.
A18: What's next for you?
MB: I'm going on holiday with my family! I haven't ridden my bike for four days, which is a first so far this year, I think. It's been an amazing year and an amazing amount of travel and training, so it's time to hit pause and take the family away for a couple of weeks. When you push yourself like that you need to decompress, both mentally and physically. I'm really proud of what we did, the whole team, and now it's time to relax – thanks Argon18 for being a part of an amazing year of record breaking and race winning adventures!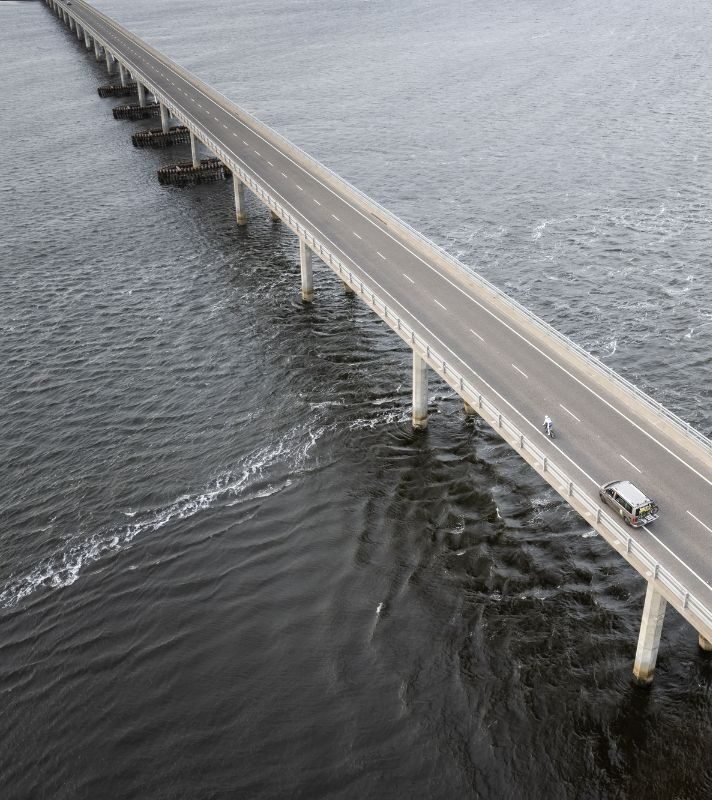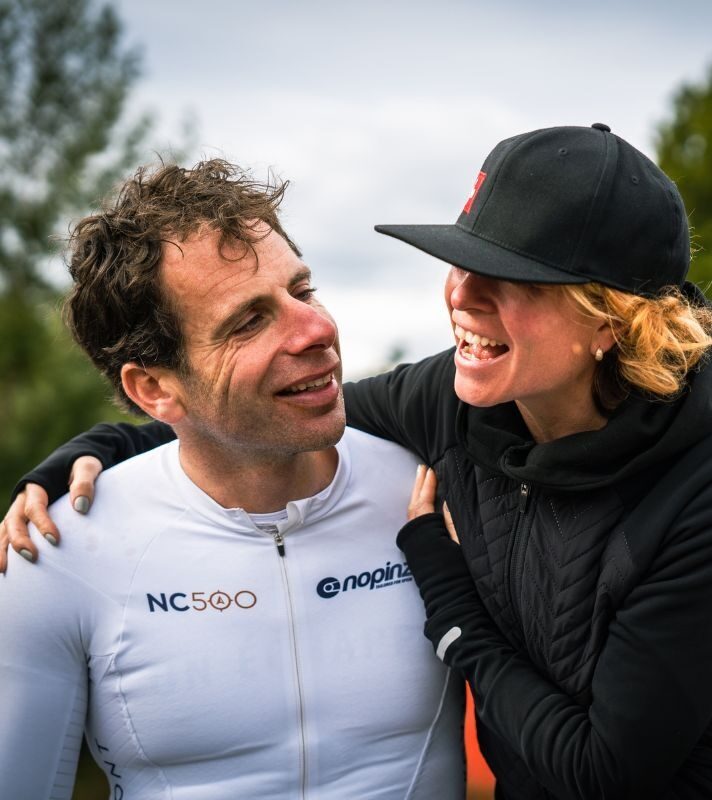 Read more about our athletes