#ThisIsMyRide: Ambitious 220
"This Is My Ride" is a series where we share the most memorable, unique, or challenging rides from our community. Maybe it's a first century ride, an epic climb, or a regular Sunday ride with friends: we want to hear about that special something which makes this particular ride epic for you – and your Argon 18. Want to share your ride? Email us at marketing.web@argon18.com.
The Ambitious 220 was a self-supported and self-guided long-distance charity ride in support of Ambitious about Autism. Rapha organized the challenge concurrently with their annual Manchester to London ride, but the ride was open to anyone, anywhere, who planned their own 220-mile (354km) route.
Christian Berg, Argon 18's sales rep in Germany, tells us how he took on the challenge over two days with three friends.
Day 1 - 245km: Frankfurt-Heidelberg-Frankfurt
Frankfurt locals Laura and David had mapped out the first day's 245km route, and we planned to roll out at 6:30 Saturday morning. My friend Patrick and I left our hotel at sunrise and rode through the empty streets of the sleeping city. But once we got to Laura and David's place, we realized that the city wasn't the only thing still sleeping! After waking Laura and David up, getting them into their cycling gear, and getting through the obligatory espresso, we hit the road. As Laura said later, the hardest part of the weekend was already over.
I had never ridden over 200km in one day before. Nevertheless, it was excitement more than doubt that fueled me along the way – that and the many cafes and restaurants along the route!
But it wasn't entirely a smooth start: after only 7km we had to stop with two tire punctures on account of broken glass on the streets. After a quick repair, we made our way along the Main River towards the first bakery stop. Just a few kilometers before fueling up with coffee and pastry another flat tire stopped us again...but not for long.
I'll admit, after that first bakery stop I realized I hadn't gotten my nutrition right for the long ride, and started getting worried. I just wasn't feeling the energy in my legs. Strangely enough, when we hit the next major climb, they came back to life! By the time we sat down for pizza and espresso in Heidelberg, we were all feeling great and more than ready for the last 88km of the day.
We found some extra power in our legs when the sun started to set, the air got colder and Frankfurt came into sight. Buzzing from the 15 hours on the road, everyone was exhausted - but happy and proud that we had finished more than two-thirds of the challenge on our first day.
The biggest surprise was René Laurent, manager at the Argon 18 retailer VeloZeit in Hanau, and his wife Bella waiting for us with ice-cold beer, excited to hear about the day. Coming home to this was definitely one of the highlights of the weekend! As Laura said later, it may have even been better than finishing the challenge on Sunday.
Even though we had never ridden together a group before, we all felt that we really found our rhythm and worked together really well on Day 1. As David put it, "the group was perfect, the route was awesome, the atmosphere was so good and the food was fantastic. It was just a lot of fun."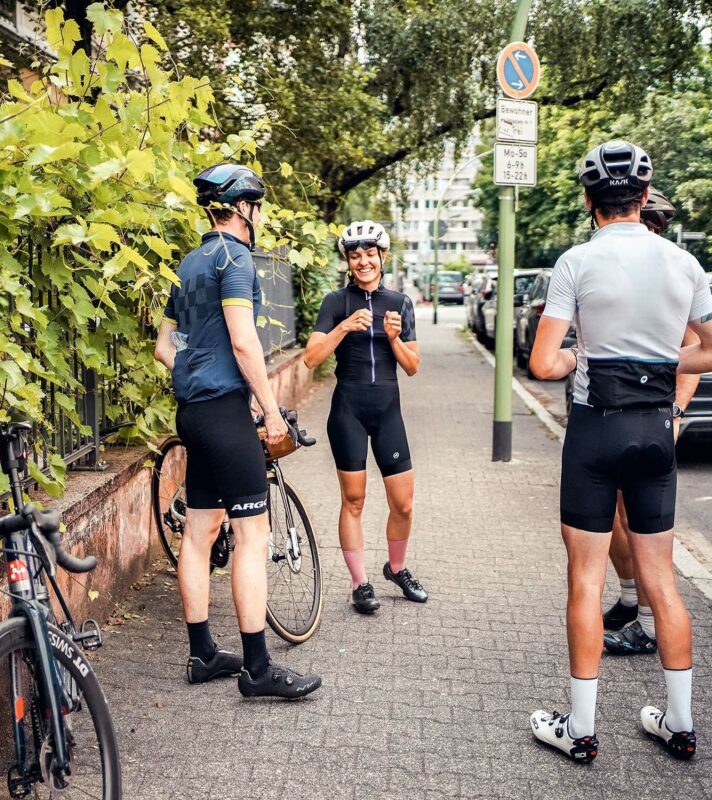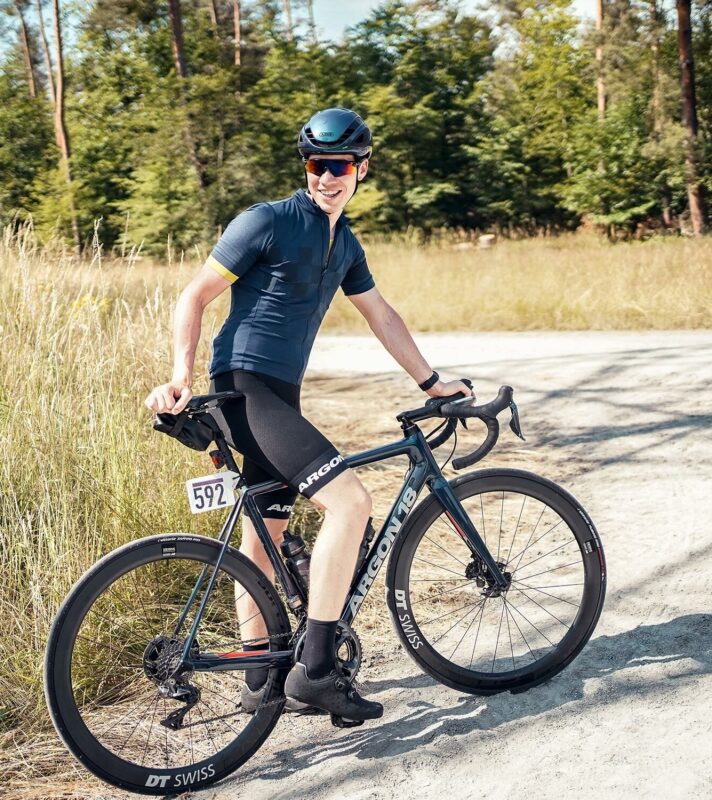 Day 2 – 110km: Frankfurt-Mainz-Frankfurt
On Sunday we still had 110km ahead of us in order to finish the challenge – but we also were joined by a group from Hanau for a sunny coffee ride to Mainz, giving us even more motivation.
We started off through a nature reserve with some gravel sections and beautiful views, to a cafe where we took a well-deserved break. Good coffee, banana bread, and avocado toast: the perfect ride destination.
After fueling up it was time to bring it home. Ironically, our ride ended how it started - with another flat tire 9km outside of Frankfurt. It couldn't put a damper on the day though, and we rode into town with smiles on our faces.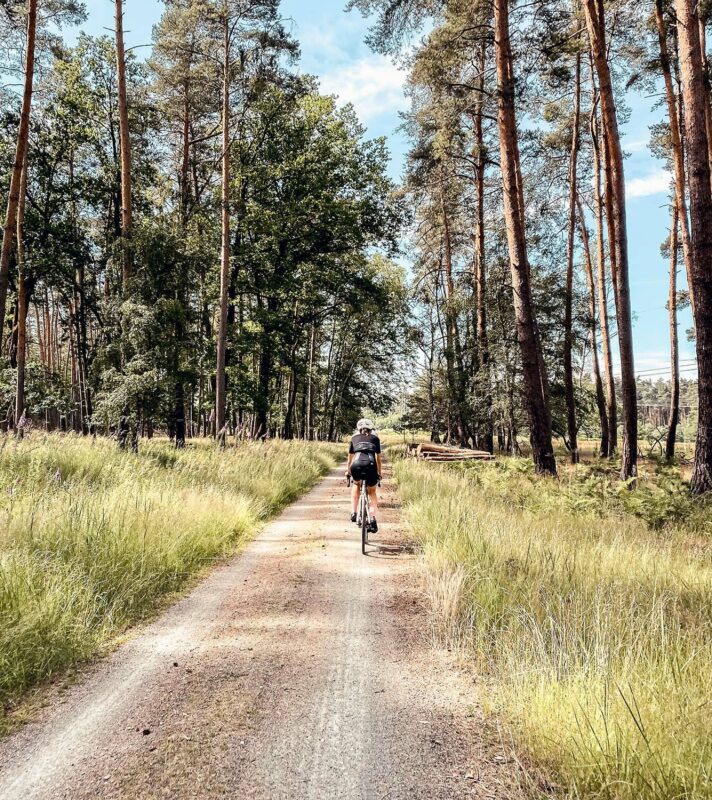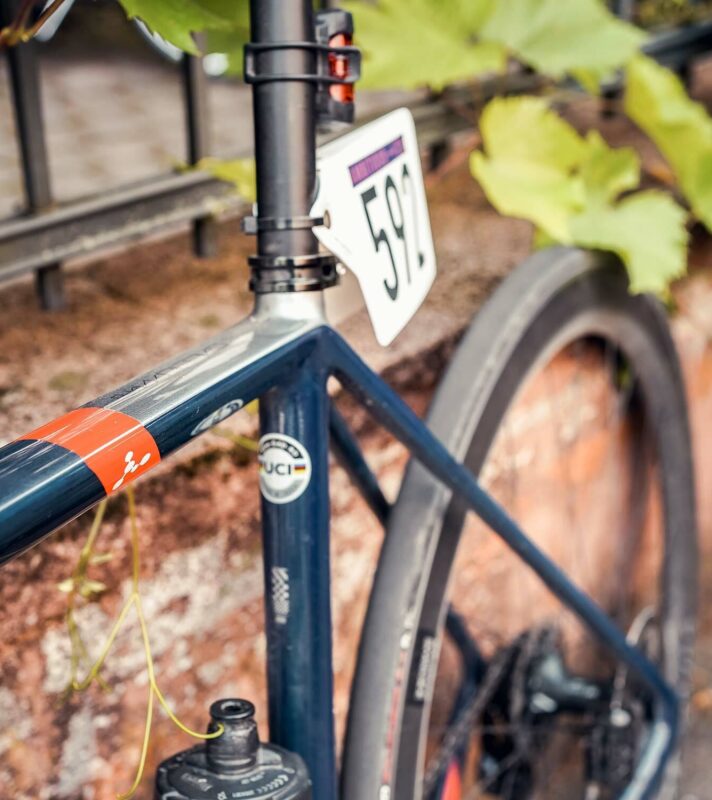 More than just riding a bike
This weekend showed us once again that cycling is so much more than just riding a bike. It connects people who were strangers before a group ride, it makes us support and cheer on each other and encourages us to take on new challenges and adventures. As David said, "it felt unreal to arrive in Frankfurt again, and even after a cold shower and a big meal it was hard to believe we had actually done it." It was an unforgettable experience for everyone involved, and our next adventure is already taking shape… maybe 300km in one day!